The Word for Monday, 25 January 2021
Does disaster come to a city, unless the Lord has done it?
Amos 3:6 (ESV)
Seek good, and not evil, that you may live.
Amos 5:14 (ESV)
To the page for:

Romanian

German Swabian dialect

Palatinate German dialect

German Cimbrian dialect
Who we are
We are about twenty Christians from all over the world.
Some of us formerly published the "Watchwords" of the Moravian Church, starting in the 1990s for PCs, later for websites and mobile devices. We now use our software for our own selection of daily Bible verses.
The Word
two complementary Bible verses for each day of the year
arranged on multiple lines for readability
on your website
on your smartphone
on your computer
as screen saver
in various Bible editions
in several languages
free of cost
The Idea: "Bible 2.0"
The term "2.0" stands for "working together online".
This is the idea of project "Bible 2.0":
Christians share their knowledge of the Bible via Internet, to find complementary Bible verses,
following the reformatory principle "Sacra scriptura sui ipsius interpres" – "Scripture explains itself"...
... like when I write down a cross-reference in the side margin of my Bible.
What Christians find for one language shall also benefit readers of other languages and Bible editions.
Starting with 2018, we take the Bible verse pairs of The Word from a pool of verses collected by our team.
Bible Editions and Languages
English Standard Version
The English Standard Version (ESV) is an essentially literal translation of the Bible in contemporary English. Created by a team of more than 100 leading evangelical scholars and pastors, the ESV Bible emphasizes word-for-word accuracy, literary excellence, and depth of meaning. Read more at https://esv.org.
Read The Word for today from the English Standard Version.
The Word in other Languages
Further Bible Editions from other Languages
Can I read The Word in my favorite Bible edition?
Please contact us!
We need permission from the publisher of the Bible edition and a person supporting us in preparing the Bible verses.
For 2021, The Word is available in Portuguese!
The Word 2021 is already available in over 20 Bible editions, more are being prepared.
You can integrate The Word in your website, using a HTML snippet, or a plug-in for your Content Management System.
Here are some pages that show The Word.
Starting with 2021, the verse pairs published as The Word are available under the Creative Commons Attribution-ShareAlike 4.0 License.
The Word 2021 is already available in 6 Bible editions, more are being prepared.
Older Articles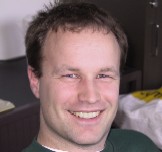 Thomas Böhme
is a software developer by profession (Java, C++, XML) and lives with his wife in Böblingen in southern Germany. His spiritual home is the free protestant church, where he passionately preaches and makes music.
By his study of theology at Regent College (Vancouver) he discovered his love for the original languages of the Bible. In his spare time, he translates and publishes books, including a German translation of the New Testament.
Helmut Steeb
organizes preparing Bible verses and software for the Bible 2.0 project.
By profession, he develops software for the automobile industry. He lives with his family near Stuttgart in southern Germany.